Winery Run - Hunter Valley
Winery Wander 5km
Sun 16 July 2023
Sun
16 Jul
Start:
9:45am
Location:
Hunter Valley
Distance:
5km
Price:
$55.00 (plus processing fee) See Race Info for Early Bird or Late Fees
The course runs in and around the spectacular Hunter Valley Wine Country.
Who's it for?
This is ideal for those wanting a hit out before lunch and those building their running/walking up.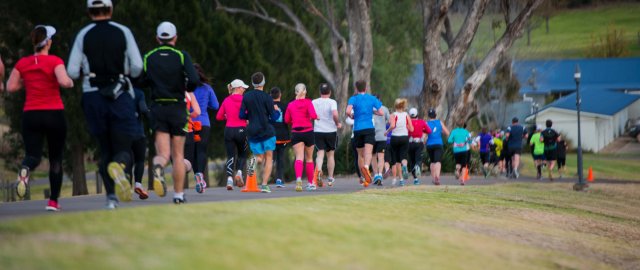 Race Kits Collection
Collection of race kits (number bibs, shirts etc.) will be possible on Saturday of race weekend from 10am - 4 pm and from 6.00am on Sunday morning from the Event Compound in the Cricket Pavilion at Wandin Estate off Wilderness Rd Lovedale.
You need pick up your kit at least 40min before your race start time. Please account for traffic and crowd issues when arriving.
You will need to provide photo identification to collect your kits or if you are collecting on behalf of another competitor a letter authorising you to collect on behalf of that athlete.
Drink Stations
Will be situated not more than 3km apart on the various courses. Note:
Water and electrolyte is available on all drink stations
First Aid
Medical personnel will be available at the race compound and on the course.
Prizes
A certificate will be presented to 1st, 2nd and 3rd prizes in all age categories. Random draws will also take place during all presentations.
Presentation
Will be held as soon as possible after the completion of the 1/2 Marathon. This is expected to be around 11.00am.
Wheel Chair Participants and Prams
Due to the various uneven surfaces a specific wheel chair race or category is unfortunately not possible. Competitors wishing to use prams should be aware the course is held on roadways that have a small amount of slow moving traffic passing. The ground is also not even in numerous spots. Prams must start at the back of any starts lines. Please contact us if you have any concerns.
Make a day of it
Sites for marquee for businesses or clubs will be available. Contact our office if you have any queries.
Share:
Event Races
Course Video
Updates